Buy Now KAYLENE PEOPLES – THE MEANING OF CHRISTMAS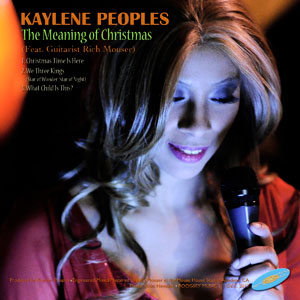 KAYLENE PEOPLES – THE MEANING OF CHRISTMAS is a vocal jazz/holiday EP filled with sensual, smooth vocals, consisting of a trio of the best beloved Christmas songs.  They have unique, original, yet modernized arrangements with a traditional jazz quartet.
As a jazz vocalist/instrumentalist, Kaylene has influences from some of the most iconic jazz musicians of our time.  She incorporates scatting, virtuoso soloing, intricate yet tonal, and very original arrangements.  Her music is precise, clean, and memorable.  As a jazz artist and arranger, she is unrivaled by her musical peers.  Kaylene Peoples is a prolific, award-winner producer, taking favorites from the Great American Song Book and making them new, fresh, exciting, and most of all… her own! Enjoy the songs "What Child Is This," "We Three Kings (Star of Wonder, Star of Night)," and "Christmas Time Is Here."  Guitarist Rich Mouser is a special treat as he solos beautifully on THE MEANING OF CHRISTMAS EP.  The combination of Peoples's smooth, extraordinary vocals coupled with Mouser's virtuosity is a must-listen-to.  So purchase "Kaylene Peoples – The Meaning of Christmas" to warm your heart, entertain the kids; or just plain close your eyes and be transported to a world of beautiful vocals, and deep, heart-felt music filled with the spirit of Christmas!
Click to purchase KAYLENE PEOPLES – THE MEANING OF CHRISTMAS EP.
(After purchase, you will receive a zip file with mp3s and CD Cover art.)  $1 goes to support Agenda Foundation's Foster Youth in Filmmaking with every EP purchased!