Kaylene Peoples
"I hate straight singing.  I have to change a tune to my own way of doing it.  That's all I know." —Billie Holiday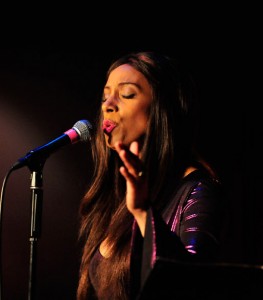 The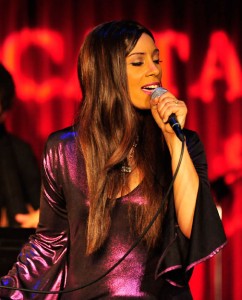 re is more than meets the eye with Kaylene Peoples.  Along with her 5-octave vocal range, she can blow the flute, play the piano, and she is proficient in a variety of other instruments.  She has become known for her intricate yet interesting musical arrangements.  Her talent just doesn't stop there.  She is an award-winning L.A. Music Awards record producer, she has had much success with her album All Jazzed Up, and she is a seasoned orchestrator, composer, and conductor.  She has scored films, written symphonies, ballets, and has written countless string arrangements for several major record labels throughout her career.  But what if we were to ask Kaylene what is her true love?  Without hesitation, she would answer,  "Jazz in its purest form!"
Having been compared to the singers Nancy Wilson, Carmen McRae, and even pegged as the female Al Jarreau, Kaylene takes singing to a completely different level.  She is influenced by the jazz greats from the 50s and 60s and she admires several artists, including Kurt Elling, Nnenna Freeland, Shirley Horn, Astrud Gilberto, and Diana Krall.  The musical integrity of a composition means everything to her.  Her unique arrangements of classics such as "Wives and Lovers," "One Note Samba," and "My Funny Valentine" are unlike any you've ever heard before.  She weaves in substitutions for standard chords, incorporates polished solos, scats, and blows us away with her effortless 1-5 octave vocal leaps as she claims full ownership of her repertoire.  Depending on the song selection, Kaylene will bring tears to your eyes.  She has mentored with accomplished instrumentalists, and incorporates an instrumental virtuosity and style into her shows.  One of her famous fans, Grammy-nominated flautist Hubert Laws, has been seen spotted front row center at many of her concerts.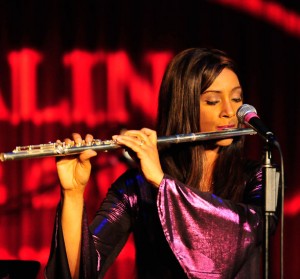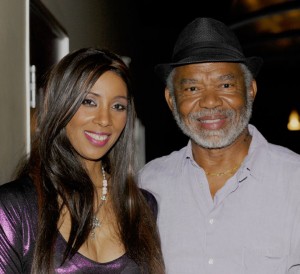 "I did a show early in my career that Hubert Laws attended.  He sat there the whole time watching me.  I was never so nervous to play my flute before . . . it was an exhilarating experience.  Once I got over my fear, I was determined to make Hubert smile during my performance.  And he did just that."  —Kaylene Peoples
"Kaylene Peoples has the voice of an angel! "—Hubert laws
Kaylene's biggest vocal influence comes from Barbra Streisand.
"I love the way Streisand emotes every word—her phrasing is impeccable.  I wanted to be able to make people feel something from my own performances in a similar way so I adopted her way of emoting.  After all, why sing a song if nobody else can feel it in their heart?"  —Kaylene Peoples
Even though Kaylene Peoples' style is nothing like Barbra Streisand's, you can hear the intense, heartfelt vocals in every phrase of every song she performs.  As a result her shows are filled with repeated curtain calls and encores.
"Jazz has a new queen . . . a queen of the Peoples!" —Jay Jackson, KCAL News
"When Kaylene sings you feel like you've been transported." —A Fan
As Kaylene performs, you'll follow her through an intricately woven journey of her soul, whether she's singing Jobim or Strayhorn she will hypnotize you as she serenades you with her distinctive, sultry voice.  Then without notice she will pick up her flute and give you goose bumps!  She might even surprise you with her own 'lone' piano solo or accompany herself on guitar while singing "Summer Samba."
Kaylene Peoples is a rare talent attracting admirers everywhere she performs.  Not a single soul will be able to resist the seductive quality of her voice—she always leaves you begging for more.  Once you've seen Kaylene Peoples perform, you, too, will become her fan for life!